GWAVRC – Wireless Screen Sharing
IOGEAR's Wireless Mobile and PC to HDTV Screen Sharing Receiver is the perfect solution for wirelessly streaming video and audio from your Windows 10 PC or Samsung Android device to an HDTV, HD Projector or Display. Enjoy all your favorite content such as movies, videos, photos, applications and online sites including YouTube® and Netflix® in Full HD without the hassle of connecting cables.
Description
The Screen Sharing Receiver makes it easier than ever to stream or cast content directly to an HDTV from your Windows or Android 5.0 Samsung smartphones with SmartView app through its support for Miracast, the wireless display standard already built into your Windows 10 (OEM installations only) and Android 5.0 operating systems.

Full HD 1080p Playback Support
Never compromise the viewing experience from your Windows 10 PC or Android 5.0 Samsung phone or tablet running SmartView app with the Wireless Mobile and PC to HDTV Screen Sharing Receiver. Stream audio and video in Full HD 1080p resolution ensuring your content playback looks as sharp on your HDTV or projector as it does on your device's display.
Send Audio & Video up to 50 ft. Away
Use Wi-Fi to stream audio and video from your PC or Android device to a connected HDTV or projector up to 50 feet away. Enjoy the freedom and flexibility of streaming AV from your desktop, notebook or Android device from nearly anywhere in a living room, office or classroom.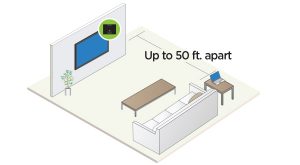 Dedicated Wireless Display Connection
IOGEAR's Wireless Mobile and PC to HDTV Screen Sharing Receiver does not require an existing wireless network to transmit content from your Windows 10 PC or Android devices unless that content comes from the Internet. Create a dedicated wireless connection along with Miracast and the receiver to stream as much content as you want without impacting the performance of a surrounding Wi-Fi network.
Perfect for Business and Education
Designed to increase efficiency in an environment where multiple users need to access a single HD display or HD projector, the Screen Sharing Receiver is useful in settings where a PC to TV or HD projector connection is necessary. Stream audio and video directly to the TV in an office lobby or waiting room to update content on the fly and display wait times. The receiver is perfect for business presentations allowing multiple users to present from their laptops or mobile devices. In the classroom, students can share their projects or presentations through the projector directly from their own Windows 10 laptops.